Services
Auto Detailing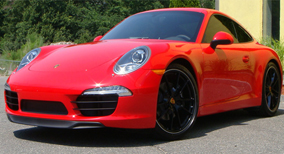 Auto Detailing is our specialty at The Toy Wash, and we take great pride in calling ourselves auto detailers. Having the experience, tools, and products available to provide the best results possible in all of the services we offer is what separates us from the rest. Our attention to detail is immaculate, and the conveniences that come along with our services are many of the reasons why we have been named one of the premier auto detailing facilities in the northeast – not just for our quality of work, but for the overall unique experience. We welcome you to try our services, and discover the difference between a "car wash" and a true "auto detail" by The Toy Wash – we are confident that the difference will speak for itself.
Paint Correction
Paint Correction is the process of refinishing and rejuvenating the top coat (most commonly the clearcoat layer) of a vehicle's painted finish. This process is also commonly known as swirl mark removal, or machine polishing. Paint correction is a multi-step machine polishing process using varying grades of paint cleansers, polishes, and compounds. This process requires a high degree of skill and experience, though once complete, can really transform the look of a vehicle and restore the brilliance in its finish.
Wheel Refinishing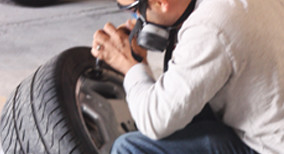 The Toy Wash provides professional alloy wheel refinishing services, allowing vehicle owners to repair rather than replace damaged wheels. Factory wheel replacements can often cost $500 or more per wheel – though The Toy Wash can repair a damaged wheel for a fraction of that cost!
Headlight Refinishing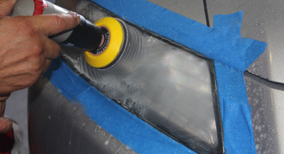 Headlight refinishing will improve the look of your vehicle, as well as provide for a much safer driving experience due to the increased light output of your headlights. The Toy Wash can restore your cloudy and oxidized headlights to like new through our professional headlight refinishing process. Through a 3 step process the oxidized surface of your headlights will be refinished using 3M's professional headlight refinishing system. This process is far more involved and successful than the consumer products sold in auto parts stores, as this process requires both experience and attention to detail to achieve its like-new final results.
Paint Protection Films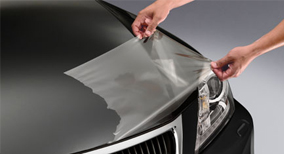 We know how you feel about your vehicle – there's nothing worse than that first chip in the paint! Paint Protection Film can be applied to any painted surface on your vehicle – from basic hood & fender packages, to complete front end protection or full vehicle wraps! Paint protection film will protect your vehicle's painted from rock chips, bug acids, sand abrasion, and more! Paint Protection Film is also commonly referred to as a "clear bra" or "chip guard" as well.
From a maintenance standpoint, paint protection films are a great investment on your vehicle. Not only will it protect the surface from chips and scratches, but it will also allow your paint to age naturally, without yellowing from sun exposure.
Paintless Dent Removal
Paintless dent removal is an inexpensive way to remove dents and dings without affecting a vehicle's original factory finish. Our paintless dent removal technicians use special tools to re-work body panels back to its original shape. This process is significantly cheaper than traditional body-shop methods which would involve filling, sanding, and repainting (a much more labor intensive, and therefore costly method!). This process can remove most dents, dings, hail damage, and other minor body damage at a cost that won't break the bank!
Windshield Chip Repair
Our windshield chip repair service prevents windshield damage from spreading further, and removes the ugly blemishes! Not only can windshield glass chips (if not repaired) develop into cracks at any time, but their visual presence is a serious eye-sore! Repairing the chips at The Toy Wash is a quick, and inexpensive (usually it's free through your insurance!) process which will remove the blemishes and restore the structural integrity of the windshield.
…and More!